A Roku channel for your Church
Expand your church to the big screen TV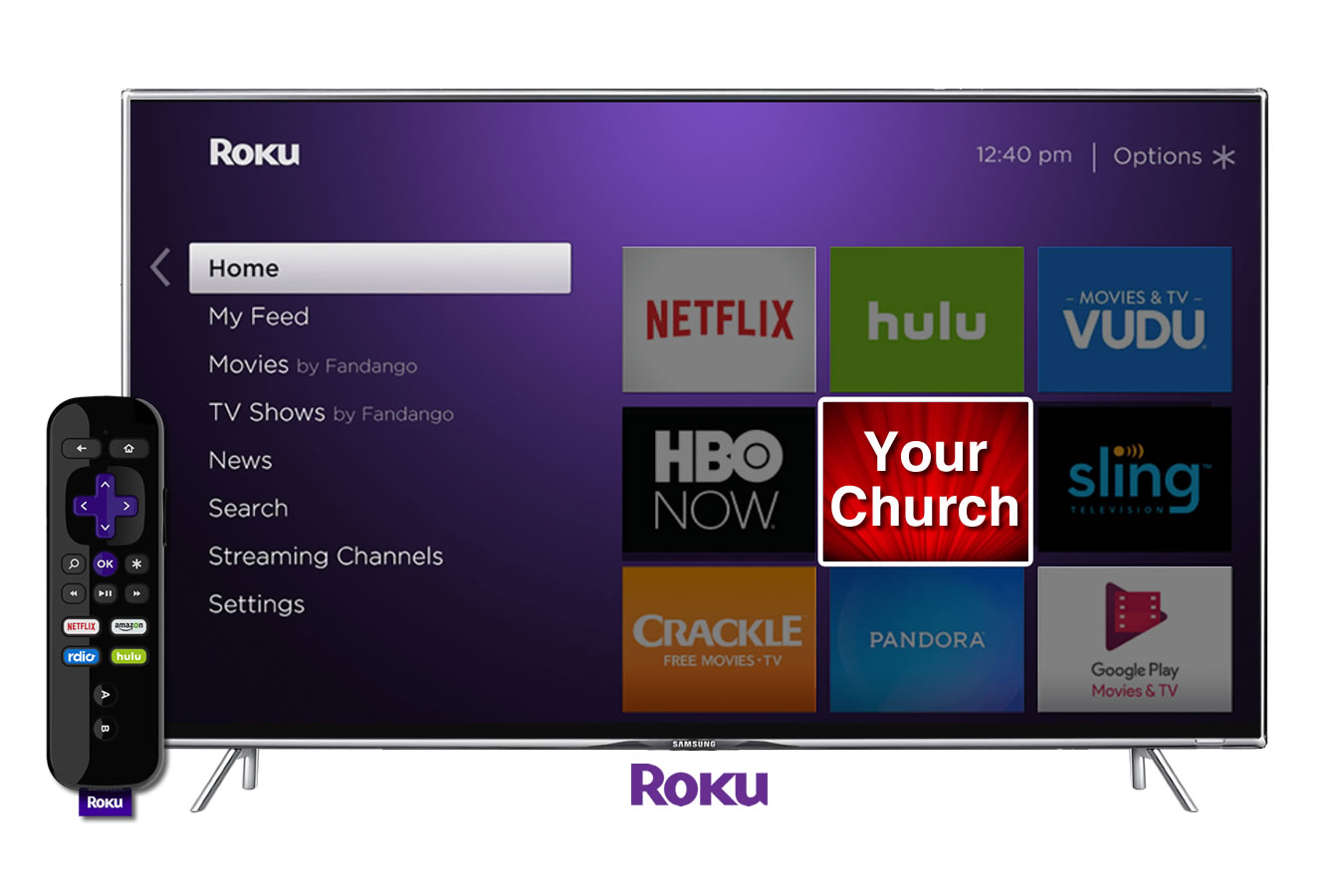 Create your own Roku channel app for your Church
With the rise of connected TVs (over half of U.S. TV households now have a Roku or Amazon Fire TV set), there has never been a better time to expand the reach of your church and make your message available directly on the big screen.
Whether it's for your existing members from across town, or new members from across the globe, you can actually make your church become part of their homes in the form of a special TV channel; a channel which is 100% custom branded based on your ministry, always available with your own content, including both pre-recorded and live.
Be live in one week
We take care of all the necessary development and customization work for your channel app, allowing you to focus exclusively on your media content. You only need to provide a few branding references (i.e. channel name, reference website, logo, brief description), and we create and publish the channel app accordingly.
Sync all your content
Once published, the channel is automatically synchronized with your Frontlayer account. Each time you upload a new video, start a live or Pseudolive stream, or update any of your content, this is automatically replicated in your TV channel, making it immediately available for your audience.
Easy to manage
It's a great way of reaching both your existing and also new/potential audience in a way that is completely different from traditional web streaming. Your message is perceived differently when delivered directly on TV.
24/7 Broadcast
Our Pseudolive technology allows you to simulate an "always-on" 24x7 live broadcast based on a list of previously uploaded videos, without having to actually stream live. This is also a great way of providing your audience access to a permanent linear broadcast, just like traditional TV channels do with pre-recorded content.
Live streaming integration
Easily combine and mix live and pre-recorded content in your channel. When you are streaming an actual live event, such as a service of worship, your audience can watch it in real time. When you are not streaming live, your audience can access all of your pre-recorded videos and you can also create a linear 24/7 broadcast based on our Pseudolive technology.
Interested?
If you are interested in evaluating an all-in-one solution with Roku Channel Hosting, Streaming and Bandwidth included, backed by over 10 years of experience in the video streaming business, check out our Roku integration link, or reach out to us and we'll be glad to help you with any questions you may have based on your specific case.